Hi, sorry about my English.
I have a problem with the plugin. I can't find the criteria I'm looking for. I hope you can help me.
I just want this:
1 - 1 credit for each star delivered when voting on a thread. If a thread receives 5 stars, the user receives 5 credits.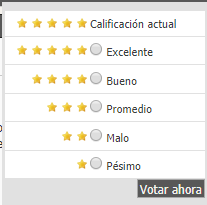 2 - Only works in a single subforum ("Pre-approved articles")
3 - Works only on a single user group ("Editors")
4 - Only stars can vote for administrators

That's it, 1 credit for each star. This is my configuration, but I can't achieve my target:
Thanks for the help.
Last edited: